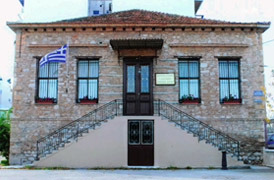 Informations. 
ΔΗΜΟΤΙΚΟ ΙΣΤΟΡΙΚΟ KAI ΛΑΟΓΡΑΦΙΚΟ ΜΟΥΣΕΙΟ ΑΙΓΙΟΥ
THE MUNICIPAL HISTORICAL AND FOLKLORE MOUSEUM OF EGIO
Οδός Δεσποτοπούλων 2 Αίγιο.
2 Despotopoulon str. Egio.
τηλ.tel.: 26910-62106, -24377, -23848.
Everyday from 8:30 to 13:30 (except Saturday and Sunday)
It is ruled of a seven member council, (four citizens and three elective administrative consuls), that are appointed from the municipality.
President is the Mayor of that period or his legal substitute.